New tool available to prepare for working in hot weather
A new, easy-to-use mobile app is now available to increase awareness about the dangers of working in the heat during the summer months.
The Heat Safety Tool (download here) allows you to calculate the heat index for your worksite. Based on the heat index, the app displays a risk level. Sign up to get warnings and suggestions for protective measures such as drinking plenty of fluids and scheduling rest breaks.
It's important to plan ahead for your shift by checking the forecasted weather and heat index, then dressing accordingly and hydrating prior to arriving at the job site.
Working in full sunlight can increase heat index values by 15 degrees Fahrenheit. Keep that in mind.
Water is the best way to hydrate. Energy drinks should be avoided because they can increase the risk of dehydration and contribute to heat exhaustion. Drinks such as Gatorade contain a lot of sugar and it's best to mix them with water.
The Heat Safety Tool also provides training on the symptoms of heat illness. It offers tips for how to recognize when a co-worker may be in distress. It's important for all of us to understand the signs so we can keep each other safe.
Use this information when outdoors with friends and family as well, so we can all stay safe when off the job.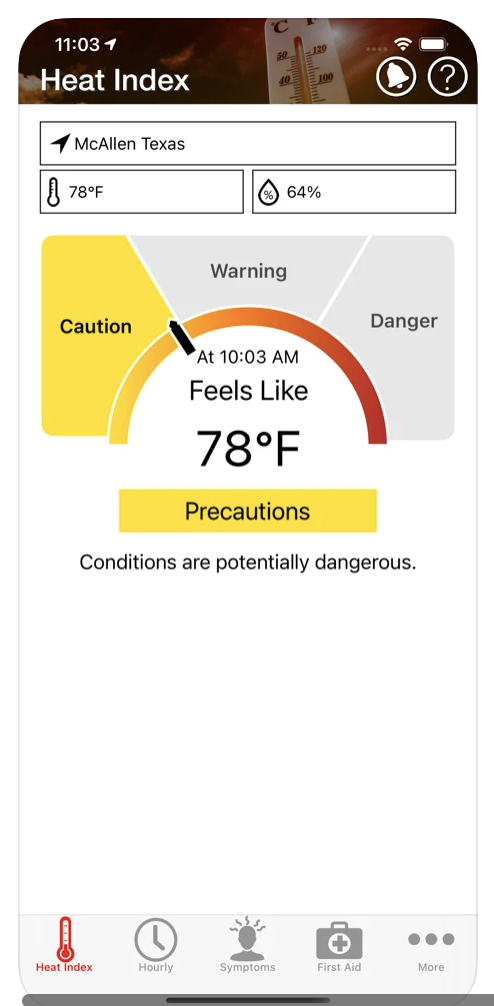 The Heat Safety Tool app was developed by the U.S. Department of Labor (DOL); Occupational Safety and Health Administration (OSHA); Centers for Disease Control and Prevention (CDC); and National Institute for Occupational Safety and Health (NIOSH).